Piet Hein Bokaal 2022 - 17 april 2022
CACIT
Georganiseerd door de NRC Rottweiler Werkgroep Flevoland op 17 april 2022.
Deze wedstrijd staat alleen open voor IGP III Rottweilers met CACIT
Sluitingsdatum inschrijving: 04 april 2020
Heeft u vragen, aarzel dan niet om contact met ons op te nemen rwf-almere@hotmail.com
Organized by the NRC Rottweiler Werkgroep Flevoland on April 17 2022.
A competition exclusively for IGP III Rottweilers with CACIT
Closing date for registration: April 04 2022
do not hesitate to contact us rwf-almere@hotmail.com for more information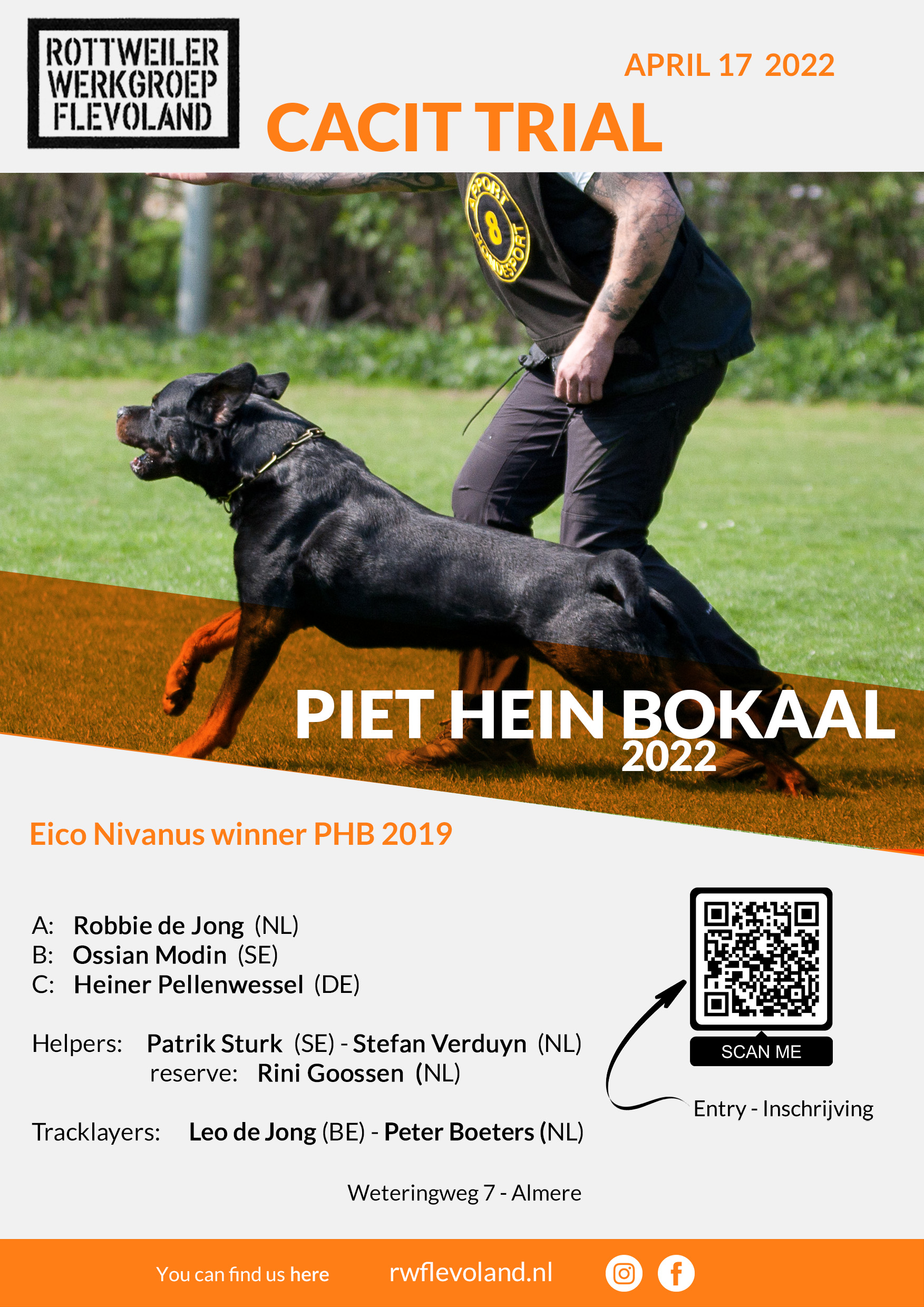 Mijn naam is Robbie de Jong.
Ik ben 50 jaar jong, in het dagelijks leven ben ik werkzaam in de zeilmakerij en printing branche. Hondensport zit in me gene, mijn vader ging naar de hondenclub toen ik 9 jaar was, ik vond het helemaal geweldig zeker het pakwerk.
Zodoende heb ik mijn eerste pakwerkers licentie behaald toen ik 14 jaar was. Wedstijd pakwerker werd ik toen ik 18 jaar was. Alle wedstrijden gedraaid die je maar kon verzinnen. Met als kers op de taart het WUSV 2004. Ook africhten ging me goed af. Met 2 honden heb ik het hoogte niveau behaald, Orthan en Glenn vom Haus Valkenplatz heb ik div. keren op het WUSV gestaan en met Glenn werd ik Vice-wereld kampioen in de USA. Toen bleef er nog een ding op me bucketlist, Keurmeester. Wat ik met volle overgave ambieer.
Op het moment heb ik een jonge Duits herder "Brutus van Hamerslag" waar ik enorm van geniet.
Ik wens de organisatie, geleiders, toeschouwers en keurmeesters een fijne hondensport dag.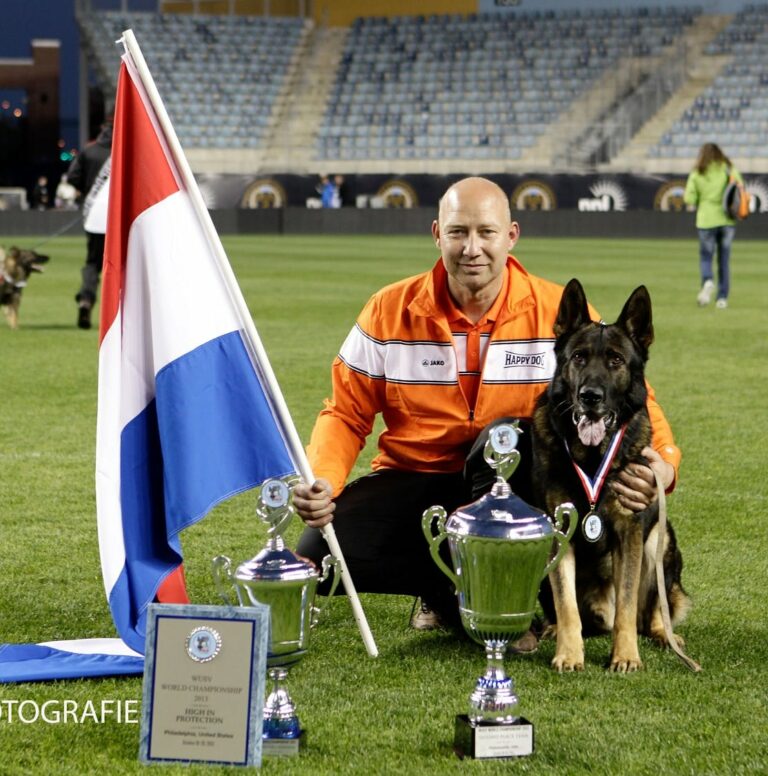 Hi, my name is Ossian Modin I just turned 45. Living with my wife and our two kids outside Malmö, Sweden. Toghether with my wife, we are the founder and owner of the feed supplement European Pet Pharmacy. We run a Rottweiler breeding under the name Team Extreme, at this moment we have two younger males at home.
At the beginning of my dog career, the focus was on show, obedience and the service dogs of the Armed Forces, but in 2007 I changed my focus and invested everything in what was then called IPO. I have had successful competition years with my last two rotties and when the last dog retired, I took the opportunity to become a judge.
Looking forward to come back to Piet Hein but as a judge this time, Wish all competitors great luck!
My name is Heiner Pellenwessel. I'm 51 years old, I work in an automobile industry factory, specially for parts of Porsche. I got my first Rottweiler in 1987. With him I took my first steps in the dog sport. At the same time I begon helper work and I received my helper license (2002 Helper ADRK Deutsche Meisterschaft). In 2005 I won the ADRK Deutsche Meisterschaft with my dog "Biko vom Herrenholz". In 2006 we gained the second place, at that time I also begon breeding under the kennel name "von der Barenau". Since 2009 I'm an ADRK judge and since 2019 I'm seated in the education committee.